Cukrarna
---
Poljanski nasip 40, 1000 Ljubljana
---
Opening hours
Tuesday–Sunday: 10.00–18.00
24 and 31 December: 10.00–16.00
Closed: Mondays, 1 November, 25 December and 1 January
---
Access
By bus:
2, 11, 20 ("Cukrarna" stop), 5, 13 ("Roška" stop), 9, 25 ("Klinični center" stop).
By car:
parking garages Kapitelj (Poljanski nasip 4) and Šentpeter (at the junction of Zaloška cesta and Njegoševa cesta)
By bike:
bike docks are available in front of Cukrarna, the nearest BicikeLJ city bike rental service stations are located at Poljanska cesta 20c; the stations at Zaloška cesta 1 and Njegoševa cesta 1 are also nearby
On foot:
walking distance from the city centre (15 minutes), to MGLC Tivoli Mansion and MGLC Švicarija (30 minutes), to SVS Studio (23 minutes), to PLAC (30 minutes), to Krater (33 minutes), to RAVNIKAR GALLERY SPACE (25 minutes)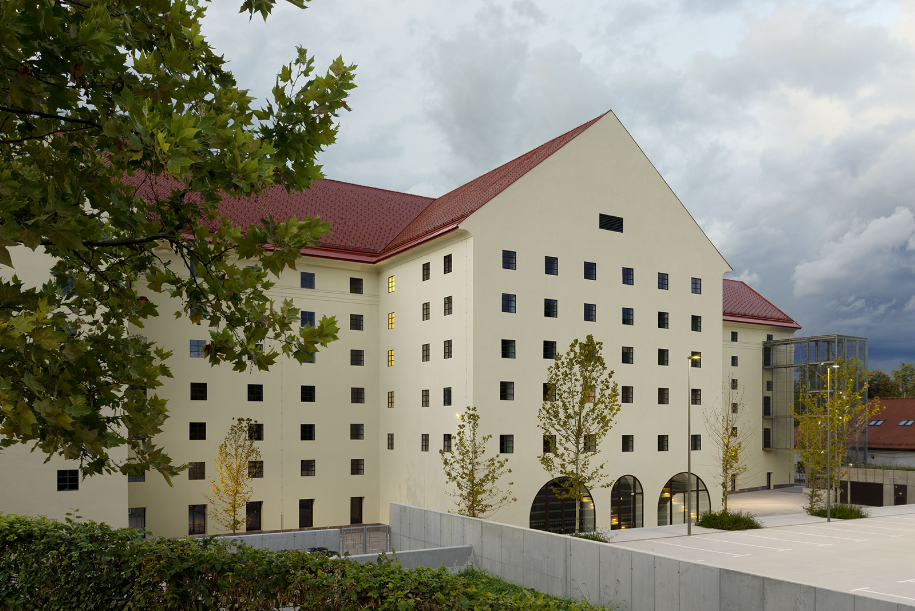 Photo: Andrej Peunik. MGML Archive.
Cukrarna was established in 1828 as a sugar refinery, the first real factory in the region and the largest sugar refinery in the monarchy in the mid-19th century. Its fate was sealed by a fire in 1858, which meant the end of sugar production in Ljubljana. In the following decades, soldiers, factory workers, artists and less wealthy Ljubljana residents swapped over and lived there. Their living conditions were far from adequate and did not improve in the 20th century so the sugar factory was considered a disgrace in Ljubljana in the 1980s.
In 2008, the Municipality of Ljubljana bought the building and the land, and between 2018 and 2021 the renovation was carried out according to the plans of Scapelab. With the opening of Cukrarna in September 2021, the Slovenian capital received a new venue for the presentation of contemporary art and a space where the processes of articulating thought, production and presentation of contemporary art projects take place – both in the field of visual arts and in the field of intermedia, performance, sound, music and other art forms.
---
Single tickets:
Family tickets:
19 EUR (at least one adult and one child from 6 to 18 years of age)
Concession tickets:
8 EUR (pupils, students, senior citizens, ICOM, AICA, SMD, ZDSLU members, Erasmus students with ESN Card)
Group tickets:
at least 5 people: 10 EUR (adults) / 8 EUR (school groups)
Free tickets:
preschool children, visitors with disabilities, Friends of the Biennale Club members, KUL abonma subscription holders, URBANA Tourist Card holders, journalists, CIMAM, IBA
Tickets are on sale at MGLC Tivoli Mansion (Pod turnom 3), MGLC Švicarija (Pod turnom 4) and Cukrarna (Poljanski nasip 40).
Tickets include the following exhibition venues: MGLC Tivoli Mansion, MGLC Švicarija, Cukrarna.
INFO POINT
MGLC International Centre of Graphic Arts – MGLC Tivoli Mansion, Pod turnom 3, Tivoli Park
International Centre of Graphic Arts
Grad Tivoli, Pod turnom 3
SI-1000 Ljubljana, Slovenia
t: +386 (0)1 241 3800