MGLC Švicarija
---
Pod turnom 4, Park Tivoli, 1000 Ljubljana
---
Opening hours
Tuesday–Sunday: 10.00–18.00
24 and 31 December: 10.00–16.00
Closed: Mondays, 25 December and 1 January
---
Access
By bus:
14 ("Pod Rožnikom" stop); 1, 3, 5, 7, 8, 25 ("Tivoli" stop); 1, 2, 6, 9, 11, 14, 18, 19, 27 ("Konzorcij" stop – city centre)
By car:
By bike:
bike docks are available in front of MGLC Tivoli Mansion; the nearest BicikeLJ city bike rental service stations are located at Rožna dolina, Nama and Tivoli – opposite Pivovarna Union
On foot:
walking distance from the city centre, Hala Tivoli or Rožna dolina (10 minutes), to MGLC Tivoli Mansion (2 minutes), to Cukrarna (25 minutes), to SVS Studio (10 minutes), to PLAC (40 minutes), to Krater (33 minutes), to RAVNIKAR GALLERY SPACE (14 minutes)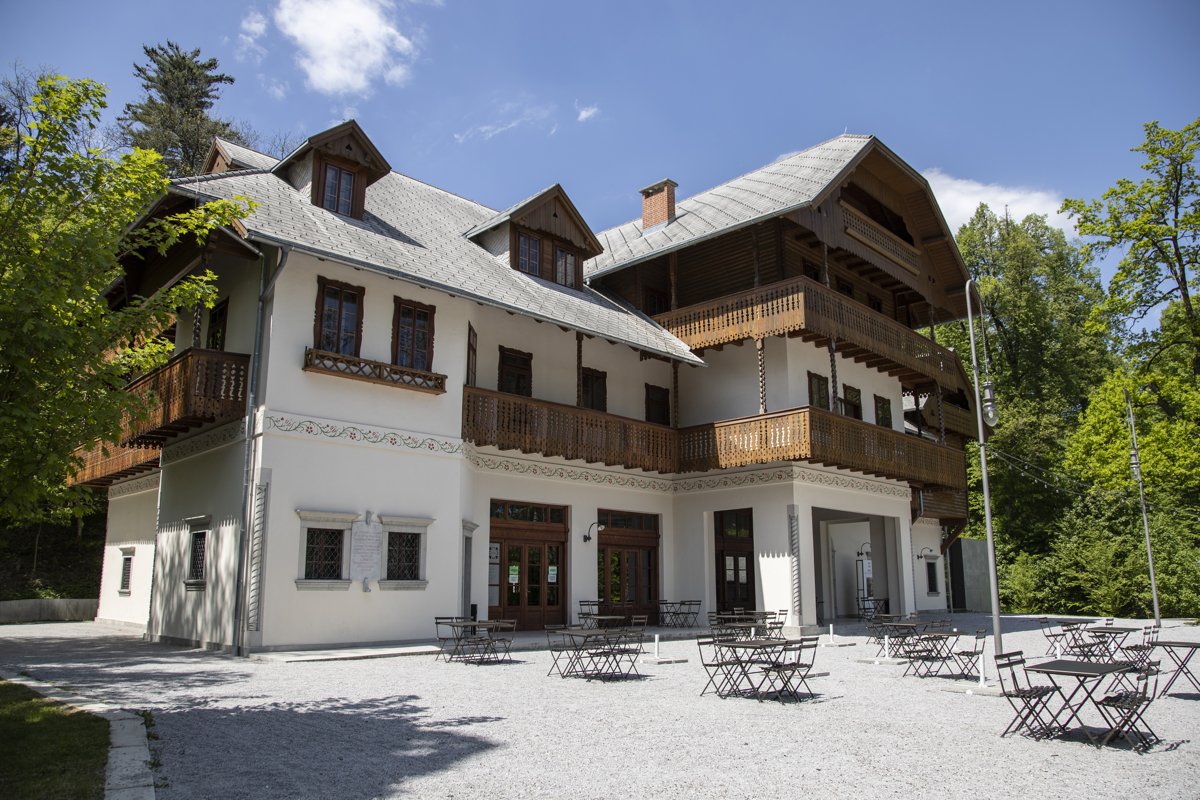 Photo: Urška Boljkovac. MGLC Archive.
In 1835, the Casino Association of Ljubljana opened a place of amusement with a guest house for its members on the hill above Tivoli Mansion. When the Austrian Marshal Joseph Radetzky resided in the Mansion, he had a Swiss-style house, the Schweizerhaus, built next to the guest house. In 1908, the guest house was demolished and replaced by Tivoli Hotel, drafted by architect Ciril Metod Koch, which became a popular destination and a famous meeting place for Ljubljana's citizens, artists and bohemians. Before the Second World War, the sculptor Ivan Zajec set up his studio in one of the rooms of the former hotel. After the end of the war, other important Slovenian sculptors followed suit and Švicarija became the cradle of post-war Slovenian sculpture. Today, MGLC Švicarija, which has operated under the auspices of the International Centre of Graphic Arts since 2017, brings together many national and international artists with a good number of residential and work studios as well as a diverse public programme and has become the new cultural, educational and social hub of Ljubljana.
---
Single tickets:
Family tickets:
19 EUR (at least one adult and one child from 6 to 18 years of age)
Concession tickets:
8 EUR (pupils, students, senior citizens, ICOM, AICA, SMD, ZDSLU members, Erasmus students with ESN Card)
Group tickets:
at least 5 people: 10 EUR (adults) / 8 EUR (school groups)
Free tickets:
preschool children, visitors with disabilities, Friends of the Biennale Club members, KUL abonma subscription holders, URBANA Tourist Card holders, journalists, CIMAM, IBA
Tickets are on sale at MGLC Tivoli Mansion (Pod turnom 3), MGLC Švicarija (Pod turnom 4) and Cukrarna (Poljanski nasip 40).
Tickets include the following exhibition venues: MGLC Tivoli Mansion, MGLC Švicarija, Cukrarna.
INFO POINT
MGLC International Centre of Graphic Arts – MGLC Tivoli Mansion, Pod turnom 3, Tivoli Park
International Centre of Graphic Arts
Grad Tivoli, Pod turnom 3
SI-1000 Ljubljana, Slovenia
t: +386 (0)1 241 3800