Ala Younis
High Dam (Concrete Poetry), 2023, installation (paper, plastic, granite, steel, copper, wood, drawings, ink-jet prints, textile and other)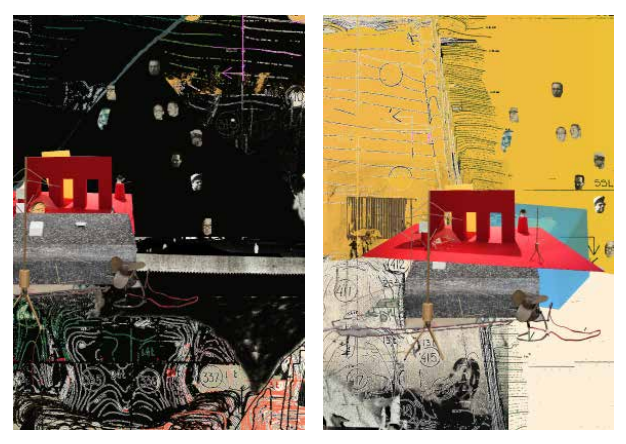 Ala Younis, High Dam (Concrete Poetry), work in progress, 2015–2023, 2023. Courtesy of the artist.
Since 2015, Ala Younis has been researching the history of the construction, politics and representation of the Aswan High Dam, one of the most important projects of Egyptian modernisation. She has already presented her research in the form of a performative lecture and an exhibition, but in this installation, she brings together all the elements she has created so far. She was inspired by the writing of Sonallah Ibrahim, who attempted to write the story of the construction of the Aswan High Dam in such a way that the narrative and structure resemble the construction of the concrete structure of the dam. The work consists of several stories, some of which are related to versions of the film directed by the Egyptian Youssef Chahine, who led the first UAR-USSR co-production: a 70mm Cinemascope colour feature film about the Aswan High Dam. The director shot the movie as the building works were taking place, but when the editing was done, it was rejected (1968) and was reshot before release (1970). Among the stories told is the relocation of the temples of Abu Simbel, the haunting faces that appeared to the dam contractors in the natural and professional landscape, and the creation of a new environment to secure Lake Nasser. All these elements come together in one setup that addresses the lives that endure beyond and despite the published didactic materials on infrastructure projects.
B. 1974, Kuwait, Kuwait. Lives and works in Amman, Jordan, and Abu Dhabi, United Arab Emirates.
International Centre of Graphic Arts
Grad Tivoli, Pod turnom 3
SI-1000 Ljubljana, Slovenia
t: +386 (0)1 241 3800