Yasmina Benabderrahmane
La Bête, a Modern Tale by Yasmina Benabderrahmane, 2020, multimedia installation (audio and video). Conceived and produced as part of LE BAL/ADAGP Award for Young Creation 2019.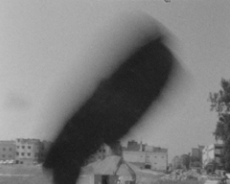 Yasmina Benabderrahmane, Ready-Made Mécanique, 2018–2020. La Bête, a Modern Tale by Yasmina Benabderrahmane. Video still. © Yasmina Benabderrahmane and ADAGP, Paris.
Two entangled storylines unfurl. They take place during several trips the artist took to Morocco upon returning there after a decade. One is Yasmina Benabderrahmane's reunion with her family members in the Atlas village of Chichaoua. The other is the artist's encounter with "La Bête" [The Beast], a massive construction site in the Bou Regreg valley of Morocco, her family's native region. The implantation of the grand scale structure, a cultural centre commissioned by the state and designed by the star architect Zaha Hadid, dried up the region's soil, creating a surrounding arid and desert landscape. The images address the tension between the devouring architecture expanding with the construction workers' machine labour and the nurturing forms of life perpetuated by the repetition of ancestral gestures and sacrificial rituals. Yasmina Benabderrahmane, who has an almost compulsive way of sensing the world through her Super 8 camera, collected several video fragments from spontaneous real-life situations, which she treats like sculptures. She collages them into a conversation between a world where body and earth make one and another in which concrete imposes its rhythm on the people and the land.
B. 1983, Rueil-Malmaison, France. Lives and works between Paris, France, and Rome, Italy.
International Centre of Graphic Arts
Grad Tivoli, Pod turnom 3
SI-1000 Ljubljana, Slovenia
t: +386 (0)1 241 3800