Martyna Rzepecka
Colouring Book for Adults, 2023, drawing on a wall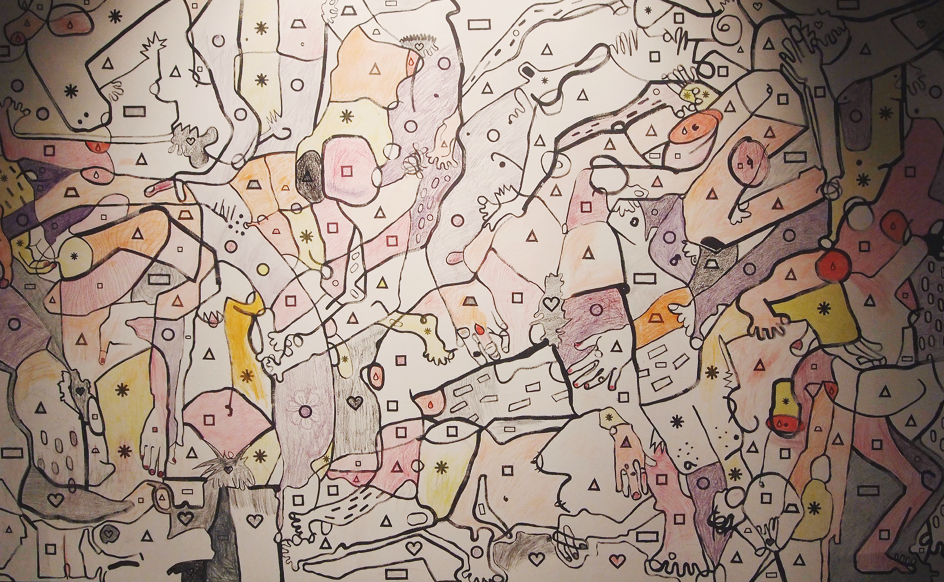 Martyna Rzepecka, Coloring Book for Adults, 2014, The Gallery Art Wozownia, Torun, Poland. Photo: Martyna Rzepecka.
The project is an invitation to co-create the process of filling the void. A literal emptiness to which Martyna Rzepecka is going to create a drawing foundation. The inspiration for the project came from colouring books for children. When we grow up, we lose our childish expression and spontaneity. We verify and divide. Therefore, Colouring Book for Adults will be a return to childhood and a space for cooperation, in which the culmination will be the creation of one common whole. Like our co-creation of the world, but with different effects – ecological catastrophe, extinct species of plants and animals, violations of human rights, aggression in a broad sense, wars, socio-cultural divisions and others. The entire composition is built up by multiplied and modified figurative forms. Rzepecka, with her experience in printmaking processes and drawing techniques, uses the human body to create a drawing space – a colouring book. For her, the body is the beginning, at the same time it should be a space of equality. Rzepecka leaves her drawing for visitors to the Biennale, allowing them to interfere and influence its final shape. This one will undergo constant changes. Everything depends and will depend on the audience, on the human being, on us.
B. 1989, Poznań, Poland. Lives and works in Poznań and Toruń, Poland.
International Centre of Graphic Arts
Grad Tivoli, Pod turnom 3
SI-1000 Ljubljana, Slovenia
t: +386 (0)1 241 3800