Sonia Kacem
Hotel Hodnik, 2023, wallpaper prints and lithographs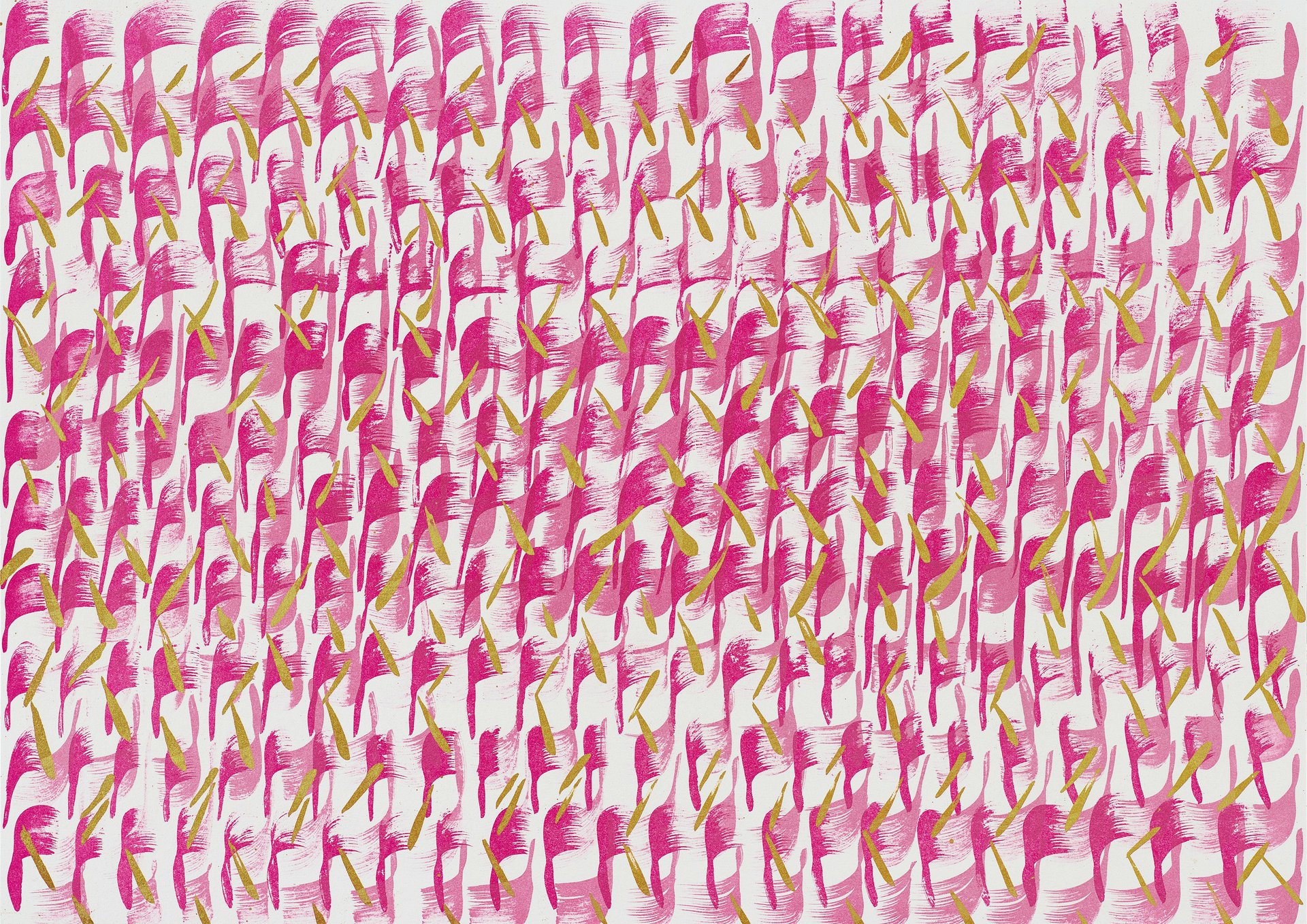 Sonia Kacem, Presque saturé II, 2023, lithograph, 42 x 59,4 cm. Courtesy of the artist and VFO, Zürich. Produced by Thomi Wolfensberger, Zürich. Photo: Bernhard Strauss.
The site-specific commission Hotel Hodnik is installed in passage points of the Biennale's venues. Hotel Hodnik, which translates from Slovenian as Hotel Corridor, evokes spaces of movement and transit but also of hospitality and trans-geographical junctions – a reminder of MGLC Švicarija's former function, which served as a hotel from 1908 to 1930. During a recent visit to Ljubljana, the artist met with architects, historians and conservators, who worked on the renovation and preservation of the main exhibition sites. Hotel Hodnik is the culmination of Kacem's research as well as her ongoing records of particular visual elements within urban milieus which she started in Cairo in 2019. From the various observations and stories collected, Kacem compiled a lexicon of forms, palettes and textures that she treats as signifiers of tensions and crossings between private desires and public needs, and between bodies and temporalities. The unique hybrid visual language she creates allows her to address her own unsettled diasporic experiences as a Swiss-Tunisian artist. The installation is thus conceived as a graphic score in which multiple layers of time and localities converse. Furthermore, it stages historical ties that bound cities such as Cairo and Ljubljana to one another, while also reflecting on the history of the Ljubljana Biennale, an exhibition founded amid the Cold War and rooted in internationalist aspirations.
B. 1985, Swiss/Tunisian. Lives and works in Geneva, Switzerland.
International Centre of Graphic Arts
Grad Tivoli, Pod turnom 3
SI-1000 Ljubljana, Slovenia
t: +386 (0)1 241 3800