Yussif Musah
The World Was Silent When We Died, 2023, installation (mural drawing and photograph)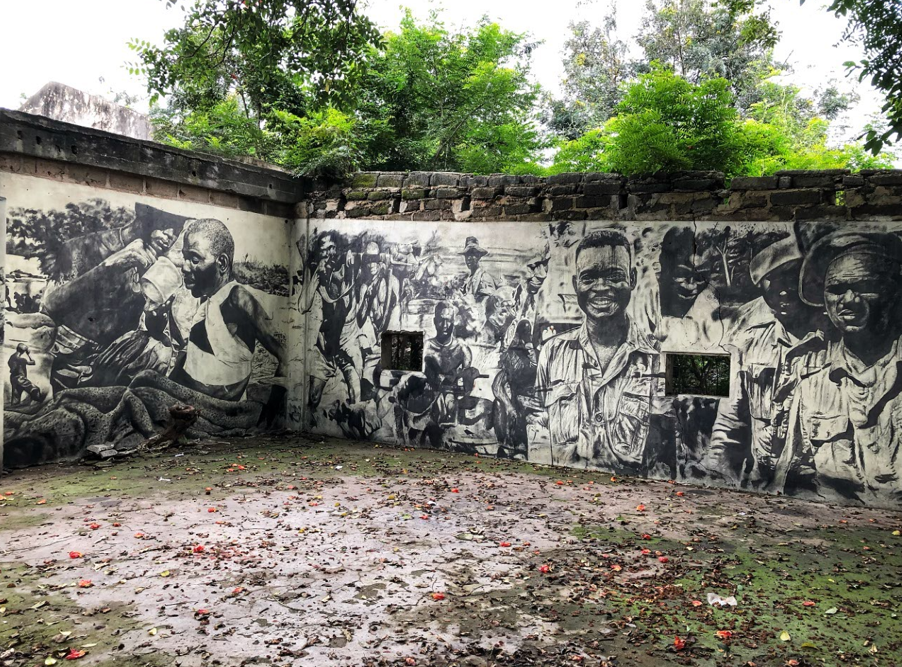 Yussif Musah. / Yussif Musah, Singing to a Mockingbird, mural drawing, Oduom-Kumasi, Ghana, 2022. Photo: Yussif Musah.
The medium of drawing offers Yussif Musah the opportunity to make fictional interpretations of the past and its resonances with diffused histories in our present time. He traces war zones on a time scale and locates forgotten agents, whose contributions changed situations on the battlefields and beyond. The works recall casual but detailed drawings found on walls in disused spaces as if the place cried out for their existence. The mix of pigments of varied treatment pretends to pay homage to the old souls that live in the renditions of Musah. He seems to steer our curiosity to various library sources – public and private – that informed the making of the images with the display of the photos of those periods. In a contemplative setting, we then discover distracting echoes of haunting scenarios that as civilians we somehow enjoy but cannot fathom. The chaotic forces at play in the images: the place and the renditions, are well put together in an almost organised manner, portraying valour and determination to face evil and death.
B. 1997, Accra, Ghana. Lives and works in Kumasi, Ghana.
International Centre of Graphic Arts
Grad Tivoli, Pod turnom 3
SI-1000 Ljubljana, Slovenia
t: +386 (0)1 241 3800