Sanaz Sohrabi
Specters of the Subterranean (part 1): Rhymes and Songs for the Oil Minister, 2021–, installation (photographic prints, adhesive photo vinyls, vinyl text, audio and video, archival documents)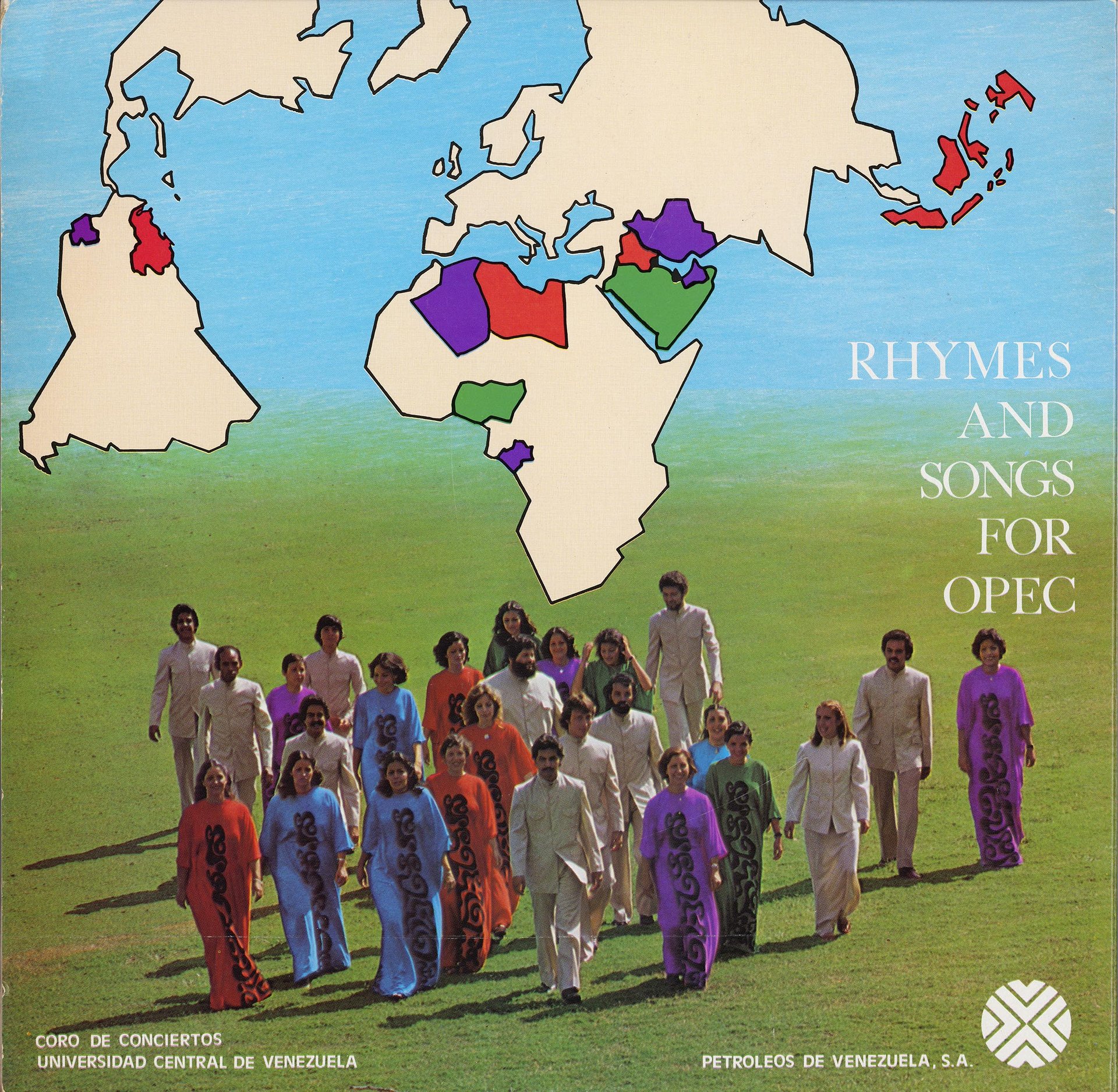 Rhymes and Songs for OPEC, Petroleos de Venezuela, S. A., 1980, Venezuela.
The installation enacts a growing constellation of stories, events and fragmented archives left behind surrounding the untold story of the Organization of the Petroleum Producing Countries (OPEC) and its cultural and political importance for the oil-producing countries of the Global South. Conceived as an assembly of archival documents, it takes its title from a unique vinyl record produced by Petroleos de Venezuela in the summer of 1980 entitled Rhymes and Songs for OPEC. The vinyl, which included thirteen music tracks of folklore songs selected in collaboration with the OPEC member states, pointed at the promise to link the peoples of the OPEC countries together through arts and culture. Sohrabi takes this audiovisual document as her starting point to retell a different story about OPEC, not as an economic project, but rather as a cultural endeavour whose political significance for resource nationalism and decolonial politics during 1950–1980 has remained mainly marginalised. The artist borrows stills and moving images from newsreels, magazine covers, postage stamps and cover letters, hostage videos and state-issued archives to trace and install a different timeline for OPEC, beginning with the First Arab Petroleum Congress in 1959 (Cairo) and ending with the start of the Iran-Iraq war, two founding members of OPEC.
B. 1988, Teheran, Iran. Lives and works in Montreal, Canada.
International Centre of Graphic Arts
Grad Tivoli, Pod turnom 3
SI-1000 Ljubljana, Slovenia
t: +386 (0)1 241 3800