Kagiso Patrick Mautloa
If You Scratch, 2, 2023, prints and archives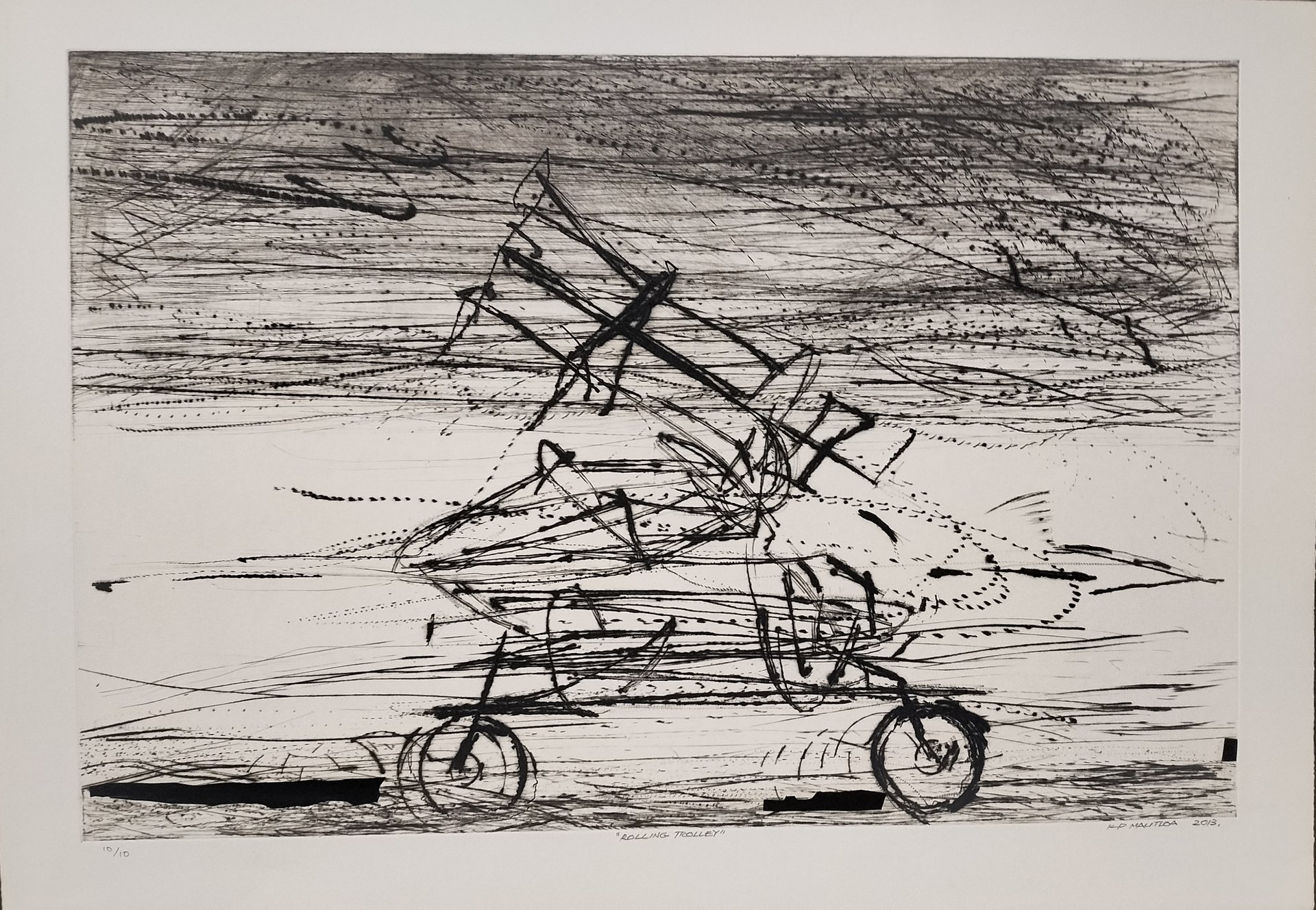 Kagiso Patrick Mautloa, Rolling Trolley, 2013, dry point. Courtesy of the artist and Bag Factory Artists' Studios.
Kagiso Patrick Mautloa, a restless multimedia artist and painter, has been a member of the influential Bag Factory Studios in Johannesburg, South Africa, together with David Koloane. The idea of the communal space started with the inception of the Thupelo artists' workshop project in 1982 alongside other prominent artists, which gave birth to the Fordsburg Artists' Studios popularly known as the Bag Factory Artists' Studios since 1991, where he currently holds a studio. In the last 32 years, the organisation has dedicated its efforts and time in helping establish similar in nature studios in different parts of the world. In his oeuvre, Mautloa used the city itself as a topic, interrogating its landscape, failed infrastructure, ways of trading, shifting boundaries and breathing agency and life into these dynamics. One of the most important South African artists, Peter E. Clarke (1929– 2014), participated in the 6th International Exhibition of Graphic Arts in Ljubljana in 1965 and in 1967 donated fifteen prints and one drawing to the collection of the then Art Pavilion, now the Museum of Modern and Contemporary Art Koroška (KGLU). In connection with and as an echo of this gesture of solidarity by the NonAligned in the former Yugoslavia, Mautloa is presented at the Ljubljana Biennale with a collection of works and archives that conveys his journey and commitment to maintaining shared learning spaces based on discussion and social interaction. Not only in South Africa, but also beyond, as the workshops have spread to other countries in the Global South, such as India and Cuba, as well as the Southern Africa Development Community region.
B. 1952, Ventersdorp, South Africa. Lives and works in Johannesburg, South Africa.
International Centre of Graphic Arts
Grad Tivoli, Pod turnom 3
SI-1000 Ljubljana, Slovenia
t: +386 (0)1 241 3800