Tejswini Narayan Sonawane
Femininity, 2015, woodcut print on cloth; Femininity III, 2015, woodcut print on cloth; A Migrant, 2017, woodcut print on cloth; A Migrant II, 2017, woodcut print on cloth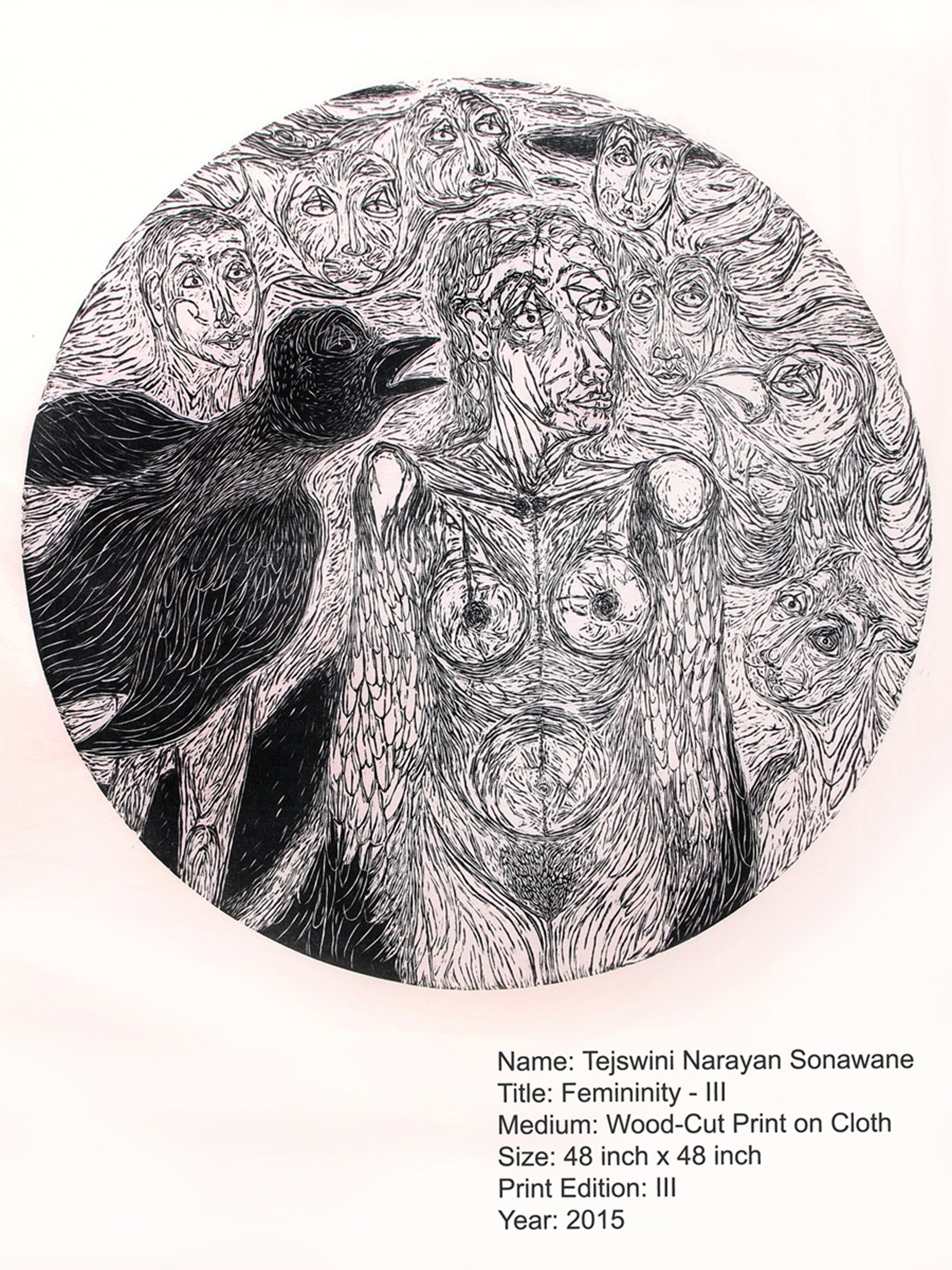 Tejswini Narayan Sonawane, Femininity III, 2015. Courtesy of the artist and Gallery Art & Soul.
Tejswini Narayan Sonawane is a printmaker whose works reveal personal stories, emotional states, relationship dynamics and transformation. In a society where gender determines your freedoms, a certain inhibition of the self manifests itself in a loss of self-ownership. Many women in South Asia are confronted with such an existence, their lives determined by their male counterparts. These transitions of the Self as a migrant, are thus states of transformation as one aspires to grow, find pathways, liberate and educate.
Sonawane also morphs the migrant self-portraits by superimposing images of animals. The layers she inscribes into her work are a metaphor for our emotional states. Cats and birds show their emotions with ease, they do not hide their pain, temperament or affection behind a mask of deception. While love may seem temporal among animals and their memory finite, they love unconditionally and fight only for primal needs such as food, territory and reproduction. In contrast, humans establish institutions like religion and nation states to obscure these primal fears and desires. Sonawane delves into stories of animals that remind humans of their virtues and weaknesses, allowing them to talk about serious issues in playful ways.
B. 1987, Solapur, India. Lives and works in Solapur, India.
International Centre of Graphic Arts
Grad Tivoli, Pod turnom 3
SI-1000 Ljubljana, Slovenia
t: +386 (0)1 241 3800