Tjaša Rener
Tiny Gallery, 2023, installation (iron construction, wood, glass); On show in the gallery are works by the following artists of the 35th Ljubljana Biennale of Graphic Arts: Beti Frim and Ines Sekač, Kvadratni meter, Mori Sikora and Manca Žitnik.; The Place We Call Home, 2023, installation (acrylic paint, photographs, couch, memorabilia.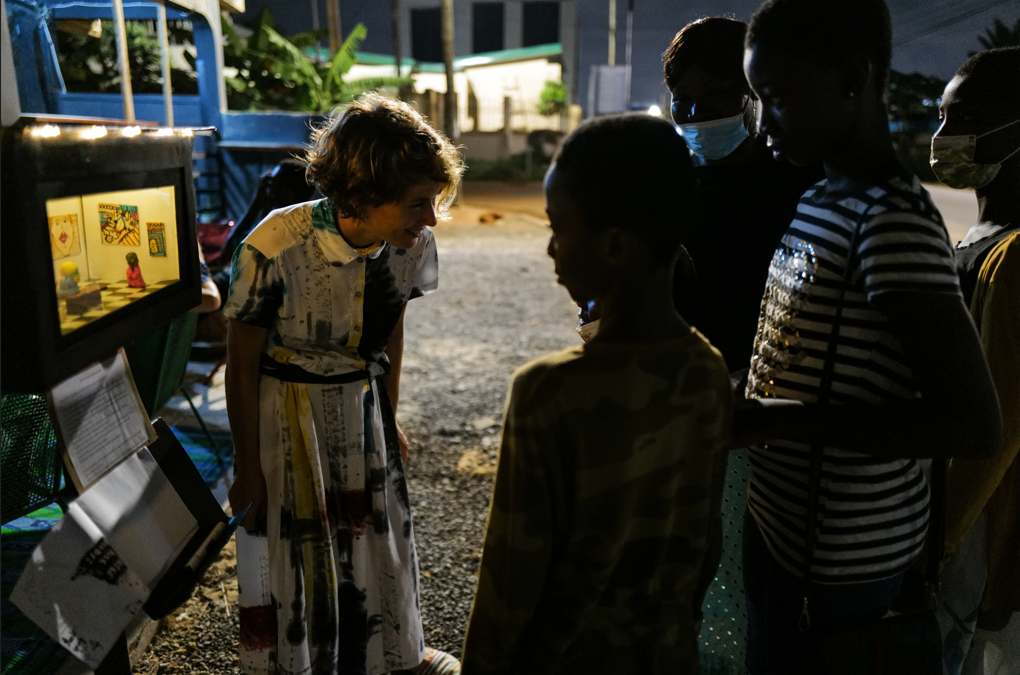 Tjaša Rener, Tiny Gallery, Acrra, 2022. Photo: Francis Kokoroko.
TINY GALLERY
Originally from Slovenia and currently based between Ghana and Slovenia, Tjaša Rener has dedicated the last decade to creating spaces that bridge artistic expression and accessibility, with projects such as Open House Studio in Ghana and Panovci 9 in Slovenia – a hub for cultural programming and collaborations that bridges the hierarchical differences between North and South. Tiny Gallery congeals the traditional gallery into a miniature form. It challenges the conventions of traditional galleries and invites the local community, especially the younger generation in Ghana, to allay their fears and awaken their curiosity to engage with art in remarkable and novel ways. Tiny Gallery aims to provide a platform for international collaboration and connections through and beyond art. A springboard to realise, in some ways, the vision of the Non-Aligned Movement. After the loss of their gallery space in Accra, this project was born to fill that void. And just as "from the void came gifts of the cosmos", Rener and artists, through a labour of love, bring forth many tantalising tiny gifts for Ljubljana, the city of love.
Beti Frim and Ines Sekač, Fragments from moss-centric (14. 9–13. 10. 2023)
Kvadratni meter, Construction site (14. 10–13. 11. 2023)
Mori Sikora,Traces of Memory (14. 11–11. 12. 2023)
Manca Žitnik, Inside/Outside (12. 12. 2023–14. 1. 2024)
THE PLACE WE CALL HOME
Tjaša Rener shines a spotlight on the relations between Ghana and Yugoslavia to reveal narratives that have been largely forgotten. Stories of students and professionals who came to Ljubljana in the early 1960s as part of the non-aligned bilateral cooperation based on mutual respect and growth rather than exploitation. Rener focused on the story of Metoda, the only Slovenian woman who stayed and settled in Ghana with her Ghanaian husband. The work charts two women of different generations who settled in Ghana, with visual elements which resonate from Ghana to Slovenia: objects and mementoes that allude to the 1980s and earlier. This homely atmosphere is undercut by the unfortunate story of Metoda, who became an alien in her adopted Ghana because of omissions in her Yugoslavian passport due to inappropriate official advice, which led to her being denied a pension. Tjaša's and Metoda's story is reminiscent of our own journey in search of a niche to call home in this torrid world. Echoes from the distant past seem far away until they hit "a place we call home"
B. 1986, Slovenj Gradec, Slovenia. Lives and works in Ljubljana, Slovenia, and Accra, Ghana.
International Centre of Graphic Arts
Grad Tivoli, Pod turnom 3
SI-1000 Ljubljana, Slovenia
t: +386 (0)1 241 3800