Mohammad Omar Khalil and Abed Al Kadiri (in dialogue)
Common Ground, 2023, prints, drawing and archives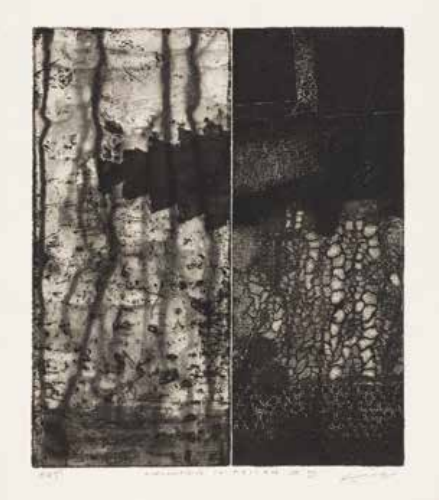 Mohammad Omar Khalil, Circumcision in Asilah, 1994, etching, soft ground, aquatint, spit bite. Courtesy of the artist.
"I didn't choose Asilah, it chose me" – Mohammad Omar Khalil, 1978
Mohammad Omar Khalil studied at the College of Fine and Applied Art in the Sudanese capital. He later studied in Florence and Ravenna, spent his university years visiting cities around the world, and finally settled in New York in late 1967, where he quickly began to incorporate popular culture – stamps, music and film – into his work. Khalil's smallest etching, a self-portrait the size of a postage stamp, expresses his personal human scale in the big city. Khalil's work moves across continents, seeking connections and combining influences from North Africa and the European canon. The artist and his work stand apart, refusing to be constrained by a geographical identity or allegiance to a single movement, as expressed in his mastery of etching and stamp-making. The Ljubljana Biennale is bringing together Mohammad Omar Khalil and Abed Al Kadiri, a multidisciplinary artist and curator, who has worked in dialogue with the modernist master for the last decade. In this crossed presentation, they are revisiting their friendship through the lens of Asilah, the city and festival of the same name in Morocco, that Khalil began to attend in 1978, thanks to his friend, the influential printmaker Robert Blackburn. Over the years, Asilah has become a second home to Khalil, who would return there each year as the festival's head of studios. In the exhibition, Asilah therefore serves as a metaphor for Khalil's transnational and collaborative journey and is activated as a living space that promotes printmaking as a medium for shared and intergenerational experimentation. A performative wall drawing by Kadiri, alluding to the infamous fig tree in Asilah, serves as a utopian threshold for entering the installation, linking Khalil's physical connection to Asilah with Kadiri's personal memories of visiting central Beirut for the first time as a child after the civil war in 1991. Expanding on trees as potential gifts from the ghosts of history, Khalil's prints dialogue with the ongoing motif in Kadiri's personal genealogy of "repair" in Lebanon, the rubber tree. Collaborative stamps have been made by both artists, involving a local community of children, that open up a new chapter in the Common Ground series, begun by Omar Khalil in 1985. Kadiri's work focuses on the notion of translating violence and explores repressed personal and collective traumatic experiences while emphasising the destruction of cultural heritage, migration and belonging. As a curator, Al Kadiri has worked with a vast selection of established and emerging artists from the Arab world, curating major retrospectives, solo shows and collective exhibitions in various cities around the world.
Mohammad Omar Khalil B. 1936, Khartoum, Sudan. Lives and works in New York, USA.
Abed Al Kadiri B. 1984, Beirut, Lebanon. Lives and works between Paris, France, and Beirut, Lebanon.
International Centre of Graphic Arts
Grad Tivoli, Pod turnom 3
SI-1000 Ljubljana, Slovenia
t: +386 (0)1 241 3800