noks collective
In the End We Decided Not to Give Up, 2023, light art installation (LED light installation, jumbo bags, projection, videos: Harshil Bhanushali, Leaving home, Joacelio Batista, Ich bin der Übermensch, soundscape loops) with live performance (soundscape and visuals)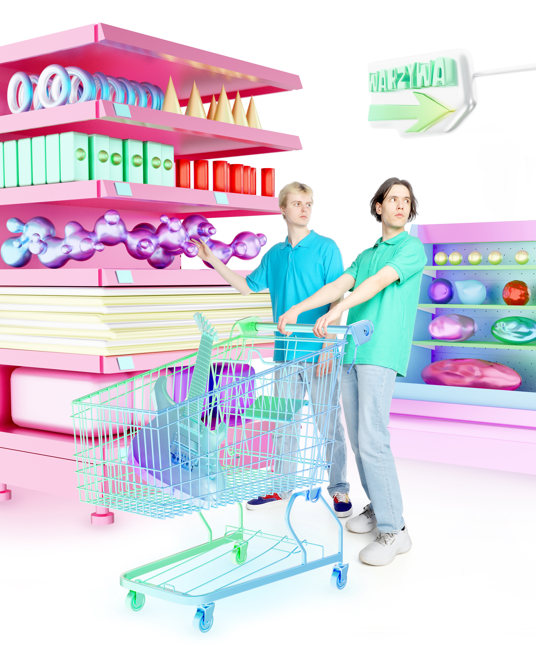 Franek Warzywa and Młody Budda, 2023. Photo: Jakub Owczarek.
A carrier bag, a marketplace, the passingthrough ideas that transform the space. The project refers to the idea of foraging ideas through movements in a public, commonly used space that often retains an untold memory of the past. It is built in a way that allows audience to explore it and find out some hidden details, like the videos that once were exhibited in One Night Public Gallery, a noks collective public space project.
The audio-visual light art installation is a meeting point, a common ground for anyone who is hungry or in need of something. This is where the performance by Franek Warzywa and Młody Budda takes off, bringing the audience a live experience and leaving behind a soundscape that stays within the installation as an echo of these sensations.
noks collective is an artist-curator collective working and living together since 2018, founded and currently based in Poland.
Franek Warzywa and Młody Budda (Francis Veggies & Young Buddha) is an audio-visual duo, born on Tik Tok, performing live only in Poland until 2023.
International Centre of Graphic Arts
Grad Tivoli, Pod turnom 3
SI-1000 Ljubljana, Slovenia
t: +386 (0)1 241 3800