Eric Gyamfi
Teak Atlas: The Situation in Ljubljana, 2023, digital prints (cyanotype and teak emulsions on Rayon batiste, digital prints on window film)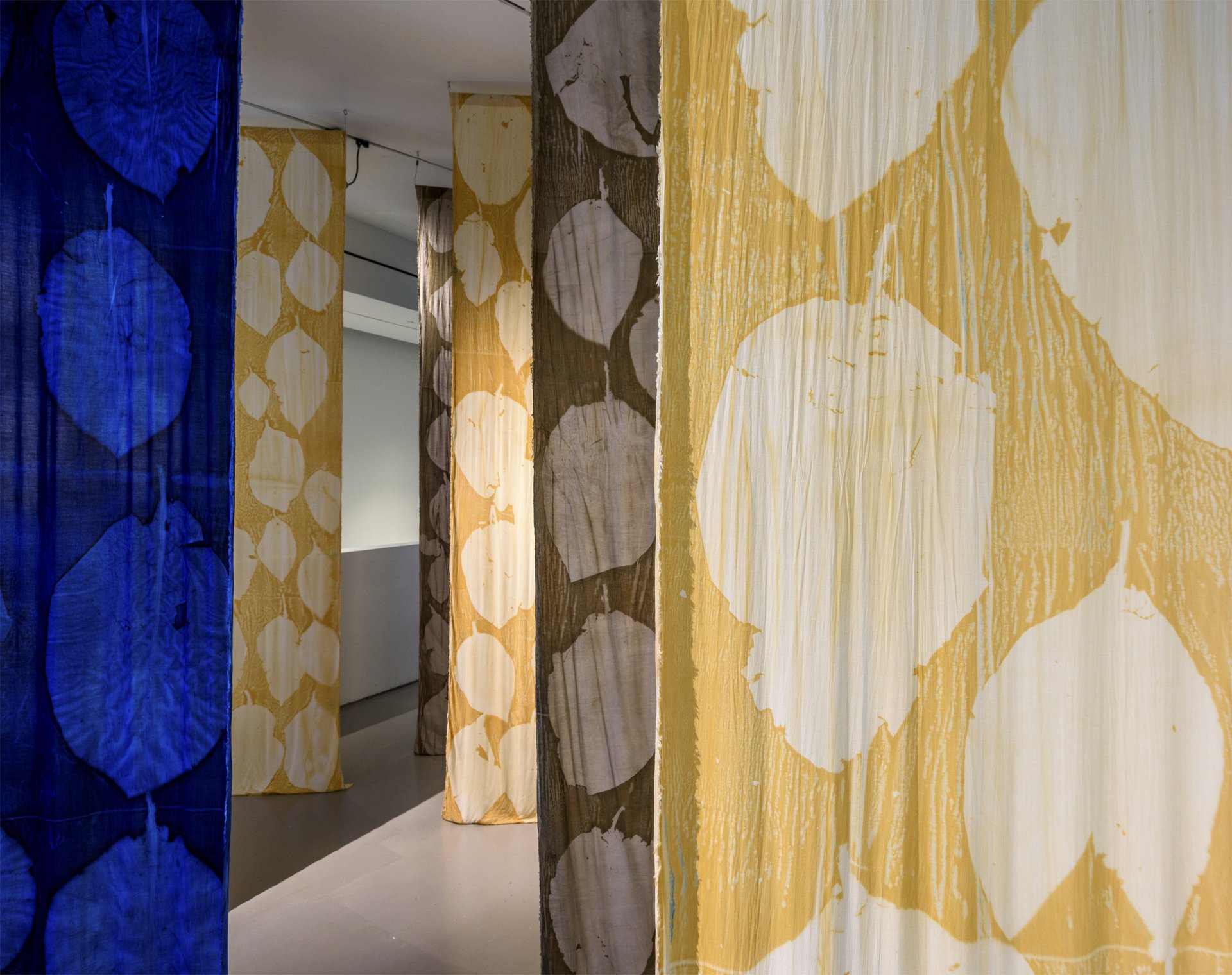 Eric Gyamfi, Teak Atlas: From Where Do We Begin, exhibition Ecologies of Elsewhere, Contemporary Arts Center, Cincinnati, USA, 2023.
The process of making the work is driven by research. The work emerges out of studies of plants combined with an interest in the history of photography. Using glass negatives, images are captured through a photographic apparatus on glass which bonds with light-sensitive chemicals to form images that undergo additional treatment outside the apparatus. Eric Gyamfi extends this process by using extracts from plants and other common inorganic sources or agents applied to glass or fabric to make the image. Various plants were randomly picked for the first experiments. He settled on teak as the base material. This seemingly alchemical process that emerges from teak involves a series of steps in which the fabric, impregnated with cyanotype chemicals, is exposed to light. The fabrics produce a contrasting image of shapes, which are then bleached. He puts the bleached fabrics in a bath of boiled teak leaves for a while and then lets them air dry. The image here is an activity that suggests the process as form, which is usually muted in the pictorial image.
B. 1990, Bekwai, Ghana. Lives and works in Accra, Ghana.
International Centre of Graphic Arts
Grad Tivoli, Pod turnom 3
SI-1000 Ljubljana, Slovenia
t: +386 (0)1 241 3800