Ilona Németh
Eastern Sugar Archive, from 2017 (selection of the video archive), 2023, sitespecific installation (video). In cooperation with Marián Ravasz (architect). Selection of the video archive in cooperation with Cukru production/Martina Slovaková. Courtesy of the artist.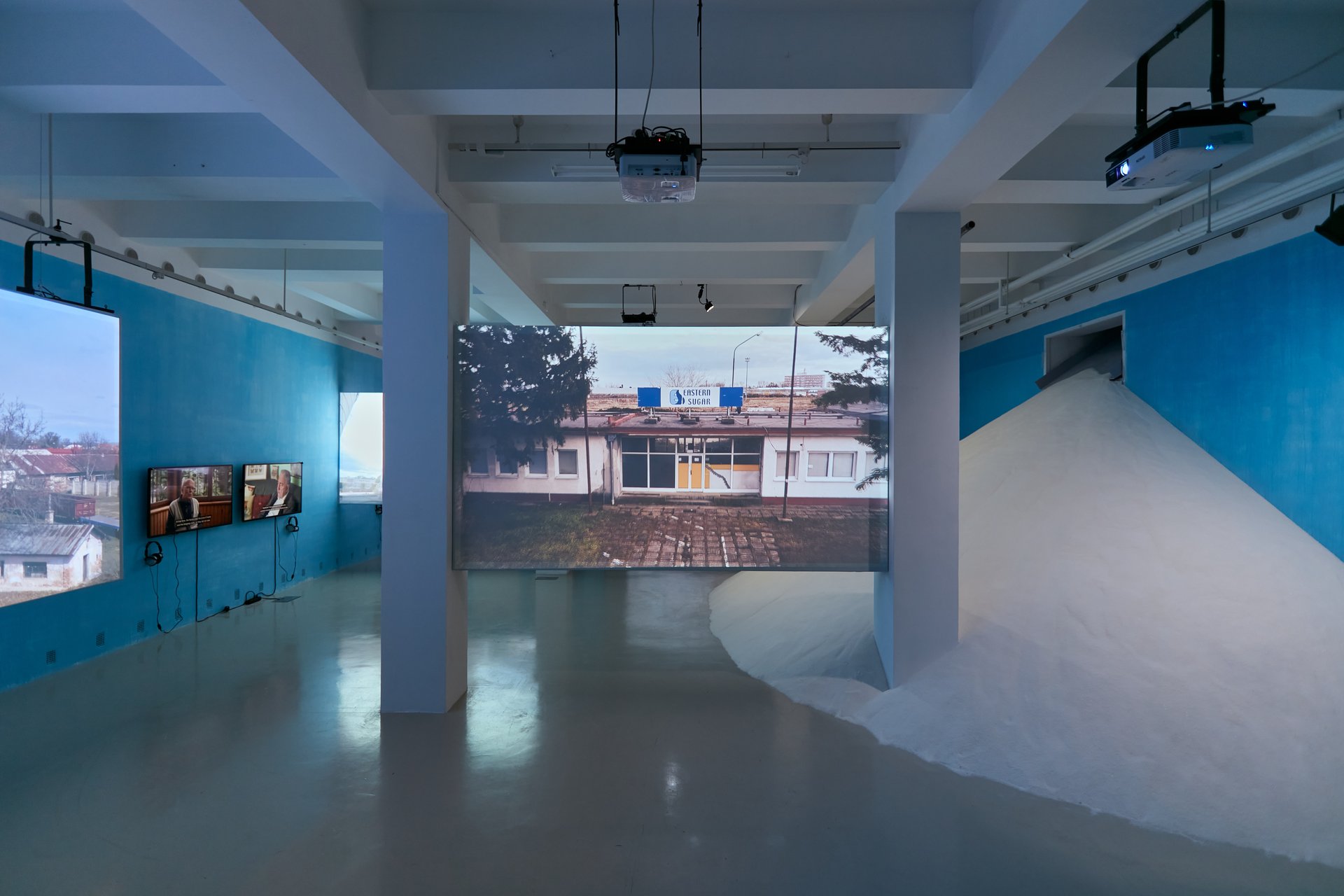 Ilona Németh, Eastern Sugar Archive, site-specific video installation at Trafó Gallery, Budapest, 2022. Photo: Dávid Bíró, Trafó Gallery, Budapest.
The explorative project Eastern Sugar reflects aspects of recent European history through the prism of the state of the sugar industry in Central Europe. Through artistic research as well as a comprehensive interdisciplinary publication* it explores the causes of the decline of Central Europe sugar production. In this case, sugar can be seen as a metaphor for an ever-changing idea of Europe and the world. The project tries to shed a light on the story of sugar in Central Europe and integrate it into the global map of sugar history. It also takes into account the influences of colonisation in the past, but also in the present.
The Eastern Sugar project draws attention to the social consequences of past political and corporate decisions, raises questions of responsibility and diagnoses the origins of the current crisis. It shares the belief that by examining and understanding our common past, we can make more appropriate decisions regarding matters that affect our future.
The interviews and video essays shown in the exhibition come from the Eastern Sugar Archive collection of about 20 videos. The interviews were conducted with key players and experts in the sugar industry from France and Central Europe.
B. 1963, Dunajská Streda, Slovakia. Lives and works in Dunajská Streda, Slovakia.
International Centre of Graphic Arts
Grad Tivoli, Pod turnom 3
SI-1000 Ljubljana, Slovenia
t: +386 (0)1 241 3800