Jihan El Tahri
Threading Solidarity, 2023, installation (silk prints on jute and cotton muslin – printed at the MGLC Print Studio, photographs, chains, crates, textiles, audio and video, archival documents)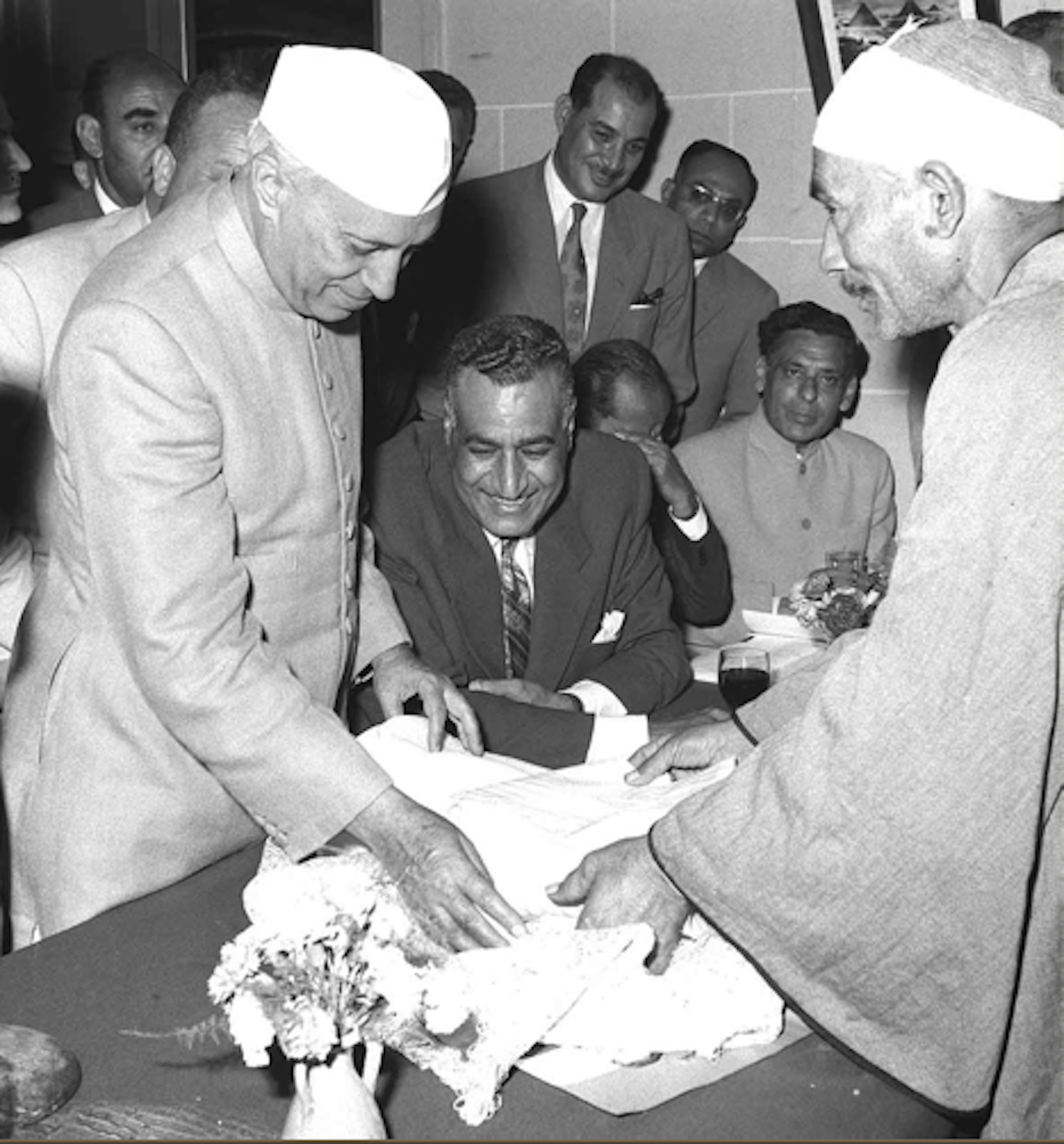 Presidents Jawaharlal Nehru and Gamal Abdel Nasser at cotton cooperative. Courtesy of: JT personal Archive C/O Bibliotheca Alexandrina.
Visual artist and filmmaker Jihan El Tahri examines the fabric of post-war transnational solidarity alliances. With this installation, she asks: which threads, both visible and invisible, held together the web of relations that supported internationalist movements such as the Non-Aligned Movement (NAM) or PanAfricanism? Inspired by the practice of African commemorative clothes, the artist suspends printed portraits of renowned revolutionaries, "the founding fathers of independence", and anchors the scene under the auspices of their lasting legacy. A rarely seen candid photograph of the NAM leaders laughing at the Belgrade 1961 summit is fragmented on printed jute and sets the framework of her inquiry. El Tahri is interested in narratives and histories developing in parallel to official representations. She draws our attention to an essential thread of solidarity unfolding on a personal level through friendship and camaraderie. Other components play on analogies and commonalities, such as the Atlas that weaves together moments and projects which cemented these alliances. The video montages juxtapose images from Egypt and India after their independence and bring to the forefront the centrality of the cotton industries in their struggle for self-determination. Cotton and fibre are omnipresent in El Tahri's research, and she posits cloth and textiles as potential sites of transnational encounters and vectors of revolutionary ethos.
B. 1963, Beirut, Lebanon. Lives and works in Berlin, Germany.
International Centre of Graphic Arts
Grad Tivoli, Pod turnom 3
SI-1000 Ljubljana, Slovenia
t: +386 (0)1 241 3800