Tracy Naa Koshie Thompson
Kanzo Series, 2023, installation (video, PLA plastics, 3D prints in PLA, 3D printed varied food substrate, wood)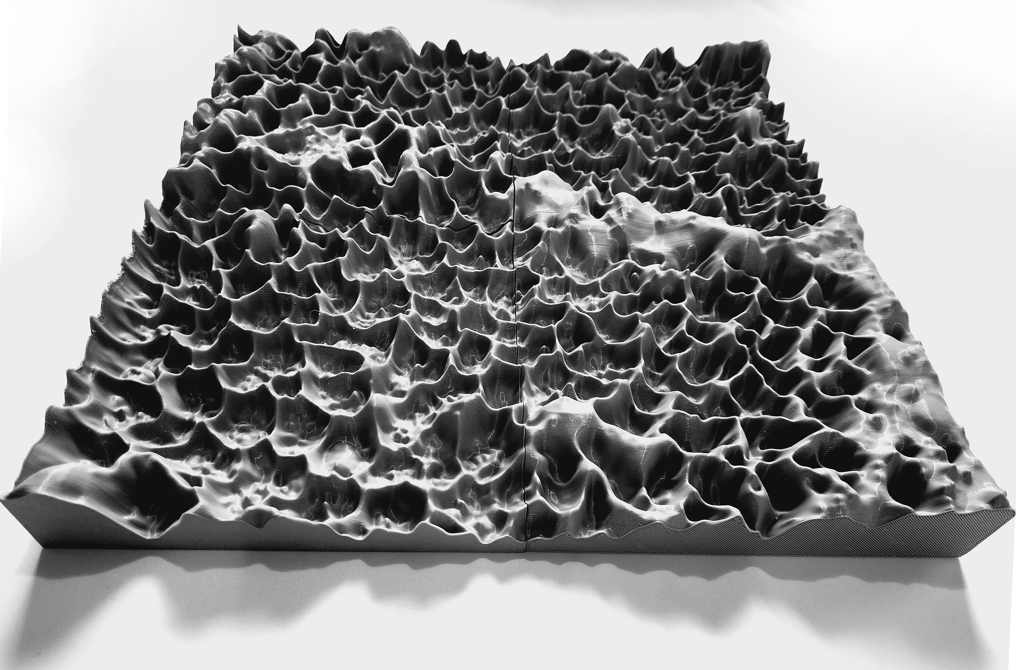 Tracy Naa Koshie Thompson, Kanzo Series, 2023. Photo: Tracy Naa Koshie Thompson.
A polymorphous mass rises on a table, which appears to be models of geographical terrains. The video (digital animation) of these topographies, reminiscent of the Škocjan Caves in Slovenia, connects our vision of what lies on the table. A closer inspection of the forms gives something away – a scaledup version of the micro-topography of "alien terrains". They are extrapolations of food, Kanzo – as it is popularly known in Ghana. Kanzo is a thin polymer membrane made from burnt food scraps. The terrains generated combine with the topography of the specimens from the Devonian era (+/- 3.2 to about 400 million years). Thompson explores the microstructures of her mutated/post-produced foods. It is produced by microscopic imaging and the generating of 3D relief maps that are used as digital blueprints for 3D printing and other digital forms. Thompson's morphological connections between geological and polymer formations play with the spectrum of scale, reminding us that we can experience things from any point. Worlds within worlds. Cosmos of a cosmos.
B. 1993, Accra, Ghana. Lives and works in Kumasi and Accra, Ghana.
International Centre of Graphic Arts
Grad Tivoli, Pod turnom 3
SI-1000 Ljubljana, Slovenia
t: +386 (0)1 241 3800