Soghra Khurasani
Shadows Under My Sky – 5, 2022, woodcut on paper, 117 x 152 cm. © Soghra Khurasani, 2022. Courtesy of Soghra Khurasani and TARQ. Fragile 3, 2021, etching on paper, paper size – 49 x 70 cm. © Soghra Khurasani, 2021. Courtesy of Soghra Khurasani and TARQ. Fragile 2, 2021, etching on paper, paper size – 49 x 70 cm. © Soghra Khurasani, 2021. Courtesy of Soghra Khurasani and TARQ. Fragile 1, 2021, etching on paper, paper size – 49 x 70 cm. © Soghra Khurasani, 2021. Courtesy of Soghra Khura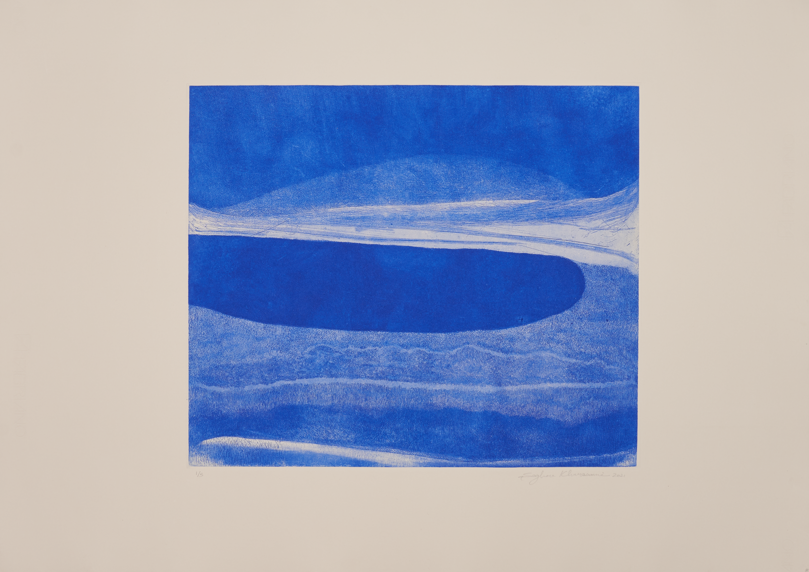 Soghra Khurasani, Fragile 2, 2021, etching on paper, paper size – 49 x 70 cm. © Soghra Khurasani, 2021. Courtesy of Soghra Khurasani and TARQ.
Khurasani explores unity and identity through fragile landscapes observed from her studio near Baroda, India. Her works reveal her layered imagination through vivid colours and textures. They address religious and national identities, casteism, racism and gender bias using visual metaphors. Khurasani places the intimate connections between nature and the human body at the centre of her practice. She regularly uses natural forms as a grounding framework for her vivid landscapes.
Her presentation at the Biennale includes three etchings entitled Fragile and a woodcut from her latest series Shadows under my sky. This series was exhibited at TARQ (Mumbai) in 2021 and Art Dubai in 2022, and was created during the pandemic.
The Fragile series consists of delicate prints on a hard matrix (zinc) that resemble layers of skin, representing the fragility of the body and unknown natural forms. The woodcuts from her series Shadows Under My Sky explore how, despite sharing the same sky and facing the collective human and natural experience, some individuals bear the burden of sensitive issues directly.
B. 1983, Ramachandrapuram, Andhra Pradesh, India. Lives and works in Baroda, Gujarat, India.
International Centre of Graphic Arts
Grad Tivoli, Pod turnom 3
SI-1000 Ljubljana, Slovenia
t: +386 (0)1 241 3800