Jaanus Samma
Wedding Rug, 2023, installation (wool carpet, three silkscreens, 70 × 70 cm – printed at the MGLC Print Studio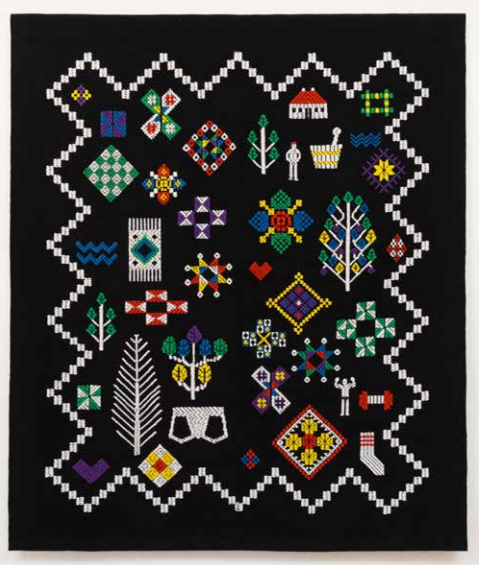 / Jaanus Samma, Wedding Rug, 2023. Photo: Stanislav Stepashko. Courtesy of the artist and Temnikova & Kasela Gallery.
The installation Wedding Rug takes inspiration from a traditional Estonian wedding custom that persisted until the early 20th century. According to this custom, the bride would personally weave a carpet for her wedding, representing a potent symbol believed to bring marital happiness. The wedding rug typically portrays the couple, along with significant objects and events in their lives, incorporating intricate decorations and geometric symbols. As weddings were generally held in winter, the decorative wedding carpet served the practical purpose of providing warmth to the feet during sleigh rides. Later, the carpet was only taken out on special occasions, be it church-related anniversaries or even funerals. The wedding rug held significant importance as part of the traditional dowry, which consisted of handicrafts created by the bride. Apart from the wedding rug, the dowry primarily consisted of gifts for the groom's relatives, reflecting a customary practice prevalent among the Baltic Finnic peoples.
Samma's rug features a queer couple, commenting on marriage inequality across most Eastern European countries. After sparking social debate, Estonia, currently ruled by a liberal government, became the first post-Soviet country to allow samesex couples to register their marriages, representing a significant shift in societal values.
Samma has also made similar rugs for the sister projects of the Ljubljana Biennale in Riga and Kaunas, illuminating the more intimate side of transnational friendships and solidarity, as well as queering otherwise traditional symbols.
B. 1982, Tallinn, Estonia. Lives and works in Tallinn, Estonia.
International Centre of Graphic Arts
Grad Tivoli, Pod turnom 3
SI-1000 Ljubljana, Slovenia
t: +386 (0)1 241 3800