Silvi Liiva
Fish, 1973, etching (private collection)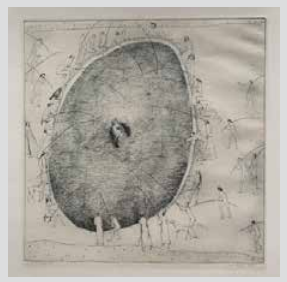 Silvi Liiva, Fishes, 1973, etching.
Silvi Liiva is best known for her etchings, which express the nature of human life in allegories. The artist grew up in the countryside and often comments on the contrast between rural and urban environments. Surrealism also plays an important role, as does her sense of humour. Fish could thus be read as an allusion to the collective striving for something to fish for, such as a better future, or to her experiences in the countryside.
B. 1941, Värska, Estonia. Lives and works in Talinn, Estonia.
International Centre of Graphic Arts
Grad Tivoli, Pod turnom 3
SI-1000 Ljubljana, Slovenia
t: +386 (0)1 241 3800