Krishna Reddy
Flowers, 1966, etching, colour aquatint; Apu's Space, 1975–1979, multi-colour viscosity print; Apu Crawling, 1975–1979, multi-colour viscosity print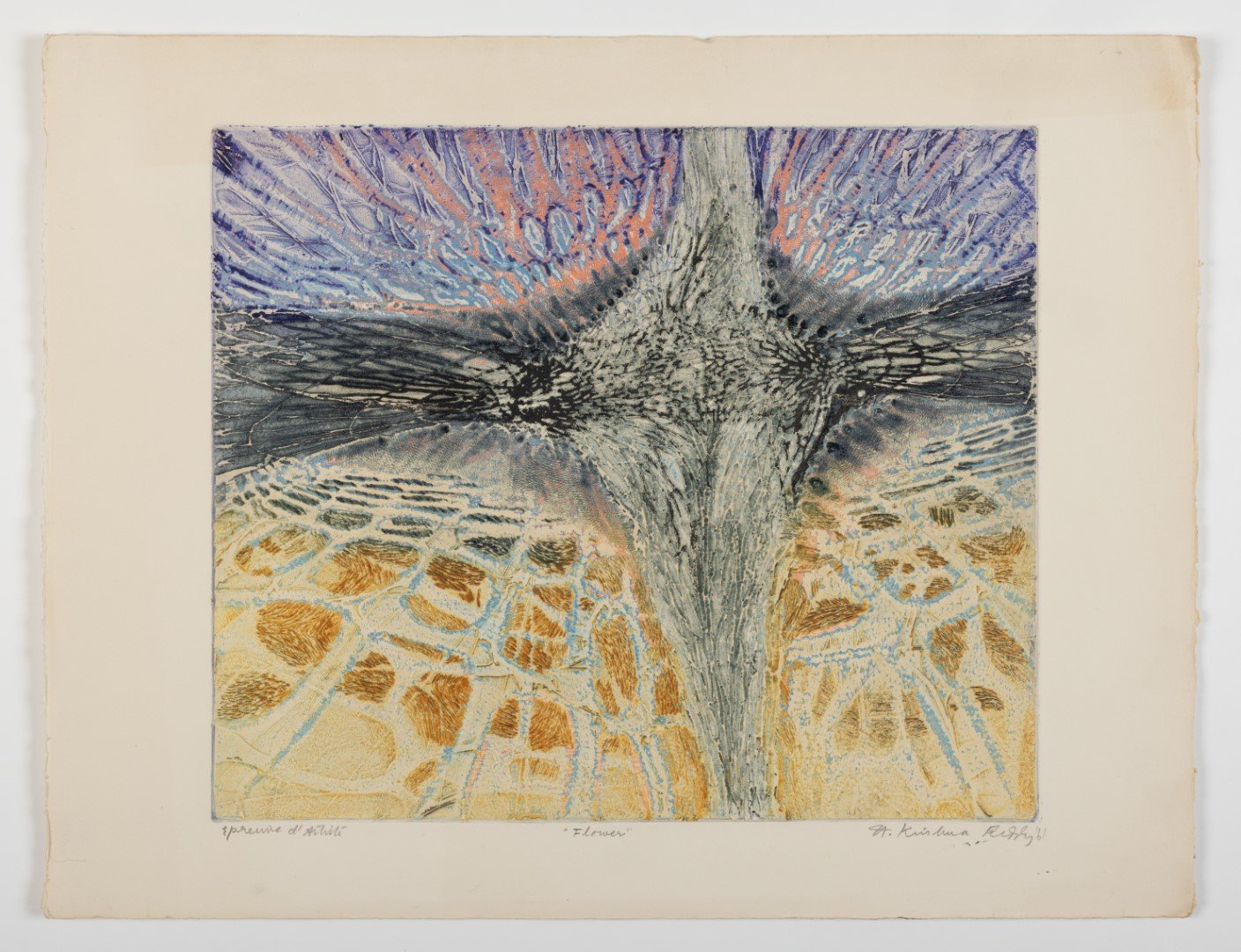 Reddy Krishna, Flowers, 1966, etching, colour aquatint. Photo: Jaka Babnik. MGLC Collection.
The Indian printmaker Krishna Reddy was co-director of Atelier 17 in Paris, where he invented viscosity multi-colour printmaking in the 1950s together with Kaiko Moti. Reddy met Mohammad Omar Khalil at Robert Blackburn's printmaking workshop in New York and together with Mohammed Melehi, the foursome founded the Asilah Print Workshop in Northern Morocco in 1978.
Reddy saw art as an instrument of solidarity and supported the decolonisation movements in Africa and the independence of Palestine.
Reddy's daughter Aparna (Apu) initiated his most productive artistic phase. She crawled into his prints. In Asilah, Reddy etched Apu's World, Apu's Space and Apu Crawling. It was a profound conceptual act of drawing the figurative human body, something he had never done with viscosity prints.
1925–2018. B. Nandanoor, India. Lives and works in New York, USA.
International Centre of Graphic Arts
Grad Tivoli, Pod turnom 3
SI-1000 Ljubljana, Slovenia
t: +386 (0)1 241 3800