Beti Frim and Ines Sekač
From the Moss-centric Era, 2023, multimedia installation (ceramics, moss, water, digitally augmented reality)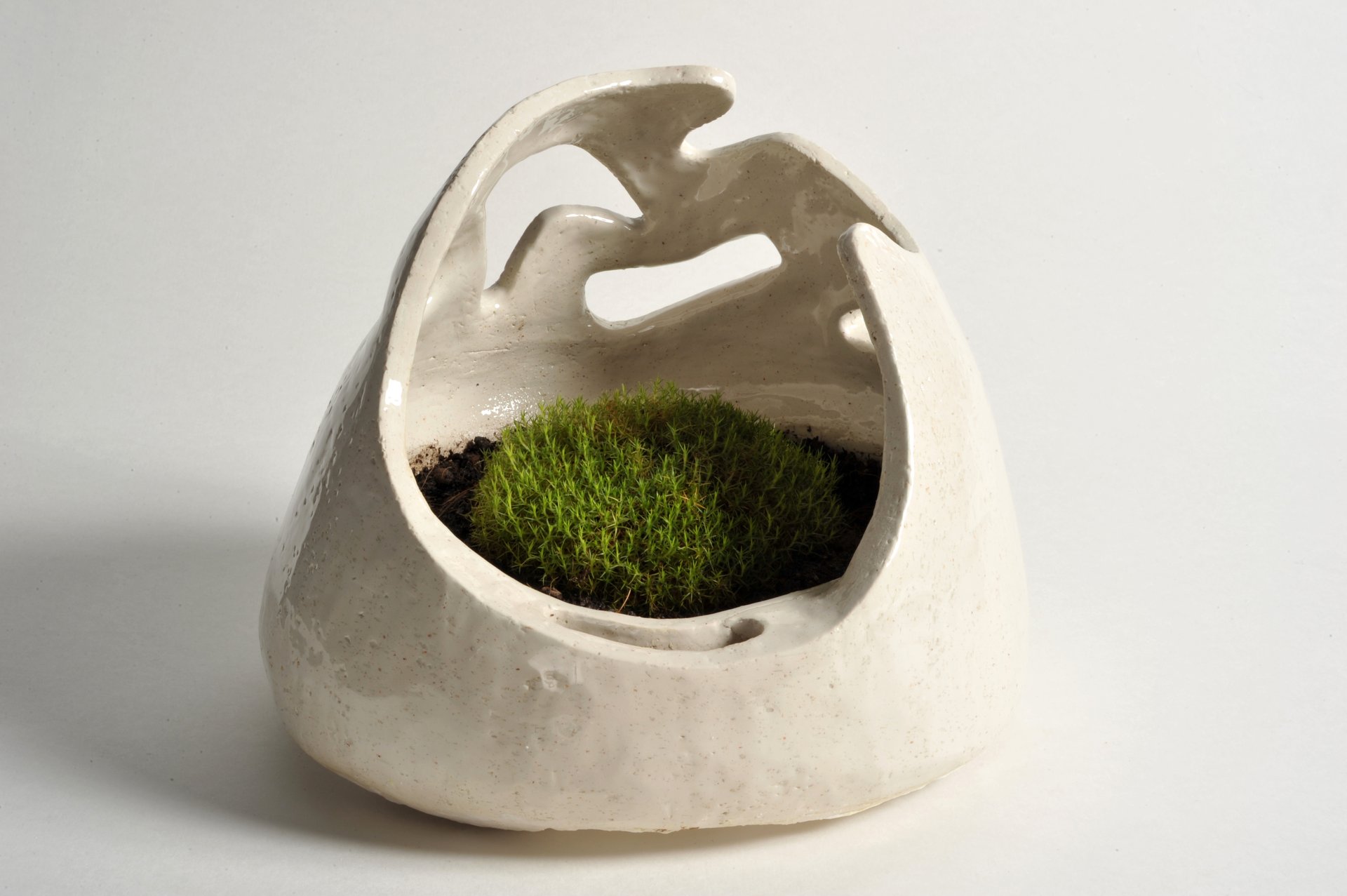 Beti Frim, container from the Moss-centric Era, 2023. Photo: Miha Benedičič.
Beti Frim and Ines Sekač, students at the Academy of Fine Arts and Design (ALUO) of the University of Ljubljana under the mentorship of Kristina Rutar, are a dynamic artistic duo who aim to reconfigure the relationship between humans and the natural world. They address this through their ceramic installations that serve as habitats for growing moss. They go beyond traditional ceramic forms by integrating technology to bridge the gap between nature and humanity. The ceramics are modelled on a passive irrigation system and this analogue technology is combined with a digital aspect in the form of augmented reality, where the audience has access to the stories and personalities of the moss. This personification of moss through augmented reality culminates in a repository for philosophical questions and the artists' desire to bring people closer to nature and inspire them to collective action to protect and preserve things that may seem unimportant, like the humble moss and, beyond that, our planet.
Beti Frim B. 2001, Maribor, Slovenia. Lives and works in Ljubljana, Slovenia.
Ines Sekač B. 2001, Maribor, Slovenia. Lives and works in Maribor, Slovenia.
The two artists began collaborating in 2021.
International Centre of Graphic Arts
Grad Tivoli, Pod turnom 3
SI-1000 Ljubljana, Slovenia
t: +386 (0)1 241 3800