(DNLM) Danilo Milovanović
Muddy Demonstrations, 2023, video documentation of performance / game Longcut, 2016, video documentation of performance / walk Dis(connection), 2016, video documentation of intervention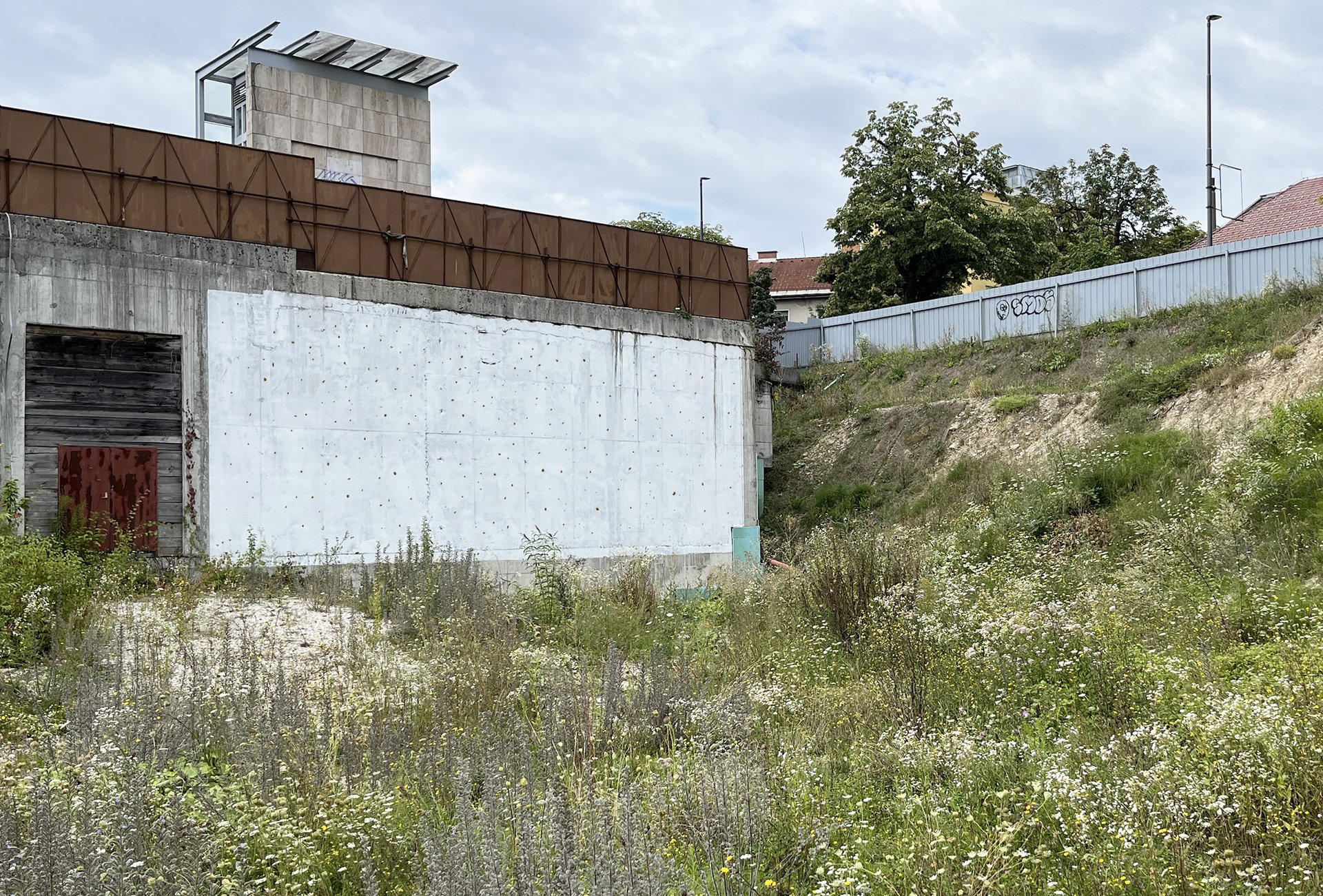 DNLM, Muddy Demonstrations, 2023. Photo: DNLM.
MUDDY DEMONSTRATIONS
The idea for this poetic work comes from the artist's memories of when children in post-war Bosnia invented games in an infrastructurally degraded environment. One of the games involved shooting clay/earth balls at a wall. Each child made a tool out of a bush by defoliating a branch and making a bendable stick. With their hands, they shaped the soil into balls, which they attached to the tip of the stick. When they swung the stick, the clay ball flew and stuck to the wall. They played until the wall was covered with hundreds of dots. Thinking about this ritual game in the context of today, many associations arise in connection with it. The activity of the body swinging an arm or a stick while running functions as a kind of demonstration, struggle, protest. From the artist's current perspective, the ritual repetition appears as a kind of poetic, native demonstration. Moreover, one of the values of children is to create something using only the basic natural materials they find on the spot. The result is minimalist, but charged with many associations that should remain open to personal interpretation.
LONGCUT
The idea for the intervention came from observing so-called shortcuts, organically created paths across grassy areas. Shortcuts are basically alternative routes, shorter ways that save us time to the final destination. The performative interventions are staged directly next to already existing shortcuts and form so-called longcuts. The starting point of the longcut is at the beginning of the shortcut, in between it develops into a separate path that eventually ends together with the shortcut. It is a processual work because it takes a certain amount of time to produce: one of the longcuts, for example, was created over several weeks, with about an hour of walking per day. The longcuts were visible and usable for several months until the grass grew back.
DIS(CONNECTION)
The intervention is a commentary on excessive concrete living spaces, both public and private. It was created in Letna Park in Prague, at the point where a cobblestone path and an organically created path we call a shortcut intersect. Using pieces of grass and soil from the park, an artist connected the interrupted shortcut and at the same time created a disturbance in the space. The intervention remained at the location for eight months.
B. 1992. Banja Luka, Bosna and Herzegovina. Lives and works in Ljubljana, Slovenia.
International Centre of Graphic Arts
Grad Tivoli, Pod turnom 3
SI-1000 Ljubljana, Slovenia
t: +386 (0)1 241 3800