El Warcha in dialogue with PLAC – Participatory Ljubljana Autonomus Zone
Clever Ways of Stacking Chairs, 2022–2023, installation (chairs, broomsticks, cable ties, wood planks, stools) Boustil Flags, 2022, flag (textile and metallic rings)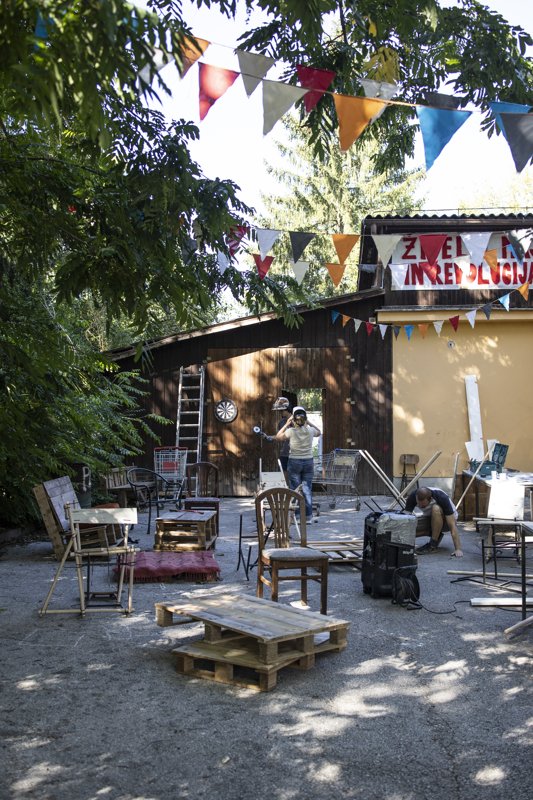 El Warcha, Clever Ways of Stacking Chairs, 2023, workshop, PLAC. Photo: Urška Boljkovac. MGLC Archive.
Open to the street and easily accessible, the workshop of El Warcha is a maker space for production and reflection as well as a meeting place that creates and strengthens social ties in the neighbourhood. Participatory knowledge exchange is at the heart of their experimentation. Each work is rooted in its local context and involves locals designing and managing the place they live in and share. Clever Ways of Stacking Chairs are functional sculptures that visitors can modify using simple assembly techniques following the construction kit principle. The prototypes on display were created in dialogue with members of PLAC. Boustil Flags results from a year-long project with the residents of the Boustil neighbourhood designing a public square in Tunisia. Together they collected words from graffiti, billboards, and shop fronts and created a series of flags following typographic exercises. El Warcha's practice posits furniture making and art installations as pedagogical and civic action tools alternative to traditional institutional frameworks and devises playful ways of inhabiting the museums and urban spaces.
El Warcha is a collaborative design studio started in 2016 in Tunis, Tunisia.
International Centre of Graphic Arts
Grad Tivoli, Pod turnom 3
SI-1000 Ljubljana, Slovenia
t: +386 (0)1 241 3800