Amina Menia
Extensions of Struggle, 2023, installation (synthetic jute sack, debris, plants, tiles, lithographs)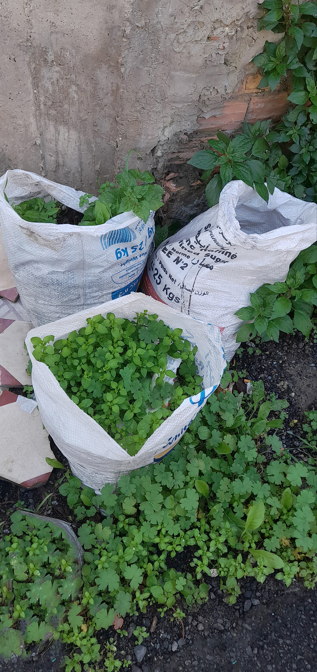 Amina Menia, Extensions of Struggle, 2023. Photo: Amina Menia.
In Extensions of Struggle, Amina Menia ponders over spontaneous urban formations in Algeria's capital. The French colonial authority built the city's centre – which remains quasi-intact since independence in 1962 – and designed the architecture and urban planning to fit their settler way of life. During her daily walk in Algiers, Menia noticed "temporary voids" on the pavement. Using jute bags, inhabitants outline those areas and make them inaccessible. They do so in front of colonial buildings undergoing construction to notify passersby that a transformation is underway, prepare the space for a potential parking spot, and prevent neighbours from dumping their waste. As the city transforms to fit current needs and tastes, it sheds the weight of its colonial legacy. Bags are filled with rubble and pieces of obsolete building parts. While they remain outside for long periods, those fragments of another era become hosts to an ecosystem of invasive plants. Extensions of Struggle reinterprets those phenomena with an installation and a series of lithographs. The work examines how urban material environments can be re-appropriated, reconfigured and seized by human and non-human intervention. It posits informal layouts in urban spaces as archival matter and activates their historical materiality and poetic potential.
B. 1976, Algiers, Algeria. Lives and works in Algiers, Algeria.
International Centre of Graphic Arts
Grad Tivoli, Pod turnom 3
SI-1000 Ljubljana, Slovenia
t: +386 (0)1 241 3800