Kolektiv Krater / Krater Collective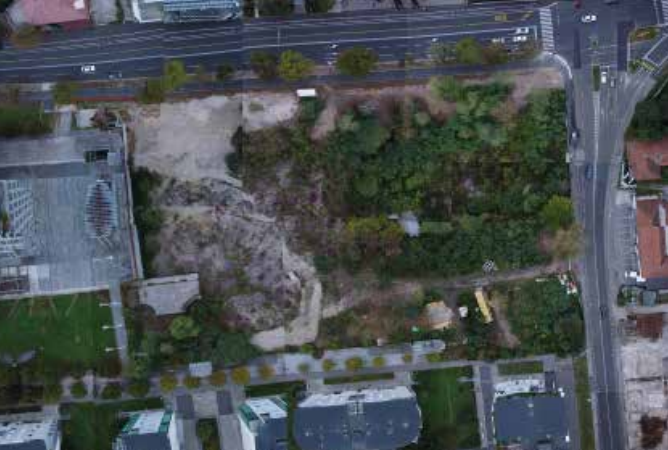 Feral cartography of extinct urban ecology: Parking lots replaced urban nature. Photo: Amadeja Smrekar, 2023.
In order to introduce typologies of cultural work that foster an "ethics of situated responsibility linked to a politics of location,"* Krater's feral logic adapts constitutive elements of the Biennale (administration, venues, reader, public, urban situations). As Krater negotiates the terms and conditions of collaboration for more than eight months, its Feral Occupations exercise the GB35's willingness to recognise and abandon extractive cultural economies in favour of actions of reciprocity (AOR):
AOR1: Krater is an equal partner of GB35 as other art institutions. 18000 m2 of "pending construction site" with an ongoing nature-culture programme is declared an exhibition venue in itself. // Krater on-site occupation
AOR2: At Krater, infrastructure is not built but performed by nature and the collective. Krater maintenance demands constant physical, conceptual and discursive labour, while its ecosystem works to pass through stages of succession. Feral contract relocates object-oriented production budget to fund readily overseen and unpaid "maintenance" labour. // Budget occupation
AOR3: Krater is under constant threat of extinction as it is an unrecognised urban ecology awaiting "urban regeneration". Similar scenarios have already occurred for instance with Cukrarna's self-sustaining biodiversity, which has been completely paved over during "renovation". To illustrate the urban planning policies and tactics used to categorise, oversee, and eventually erase feral city lands, feral cartographies connect existing and extinct feral sites as an exercise in urban memory. // Institutional occupations
AOR4: Regenerative (nature) work is considered as infrastructure – although the eradicated Japanese knotweed is growing back, it works on the biodiversity and soil quality on the Municipality lawns opposite Cukrarna. To support this work, the municipal maintenance regime of urban green spaces is interrupted by a ban on regular mowing during GB35. // Institutional occupation
AOR5: Without simplifying the extent of the occupations, deficiencies in the Biennale budget were met with a request – Krater's unpaid work is featured in the promotional materials as partnership/ sponsorship and compensated with a purchase of Trajna's Japanese knotweed paper for the special pages of the Biennale Reader. // Reader occupation
The Feral Occupations of GB35 encourage the capacity of the Biennale to enter into interdependencies with autonomous creative practices while reframing the protocols and economies of hegemonic cultural models. Instead of momentary exhibition exposure, Feral Occupations set conditions for the continuance of eco-social actions within culture.
Danica Sretenović, Gaja Mežnarić Osole, Andrej Koruza, Anamari Hrup, Eva Jera Hanžek, Louisa Selleret, Rok Oblak, Amadeja Smrekar, Sebastjan Kovač, Primož Turnšek, Edern Haushofer, Altan Jurca Avci, Juan José López Díez
International Centre of Graphic Arts
Grad Tivoli, Pod turnom 3
SI-1000 Ljubljana, Slovenia
t: +386 (0)1 241 3800