School of Mutants (Hamedine Kane, Stéphane Verlet-Bottéro)
I Am My Own Sun, 2023, installation (2 channel video installation with sound, 15 woodblock prints – printed at the MGLC Print Studio, textile-based flag)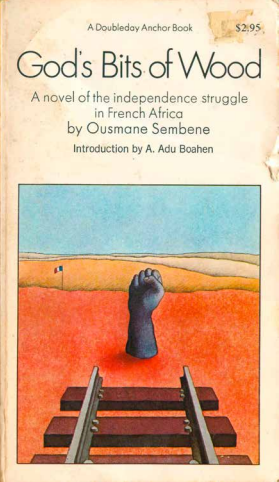 Ousmane Sembene: God's Bits of Wood, New York: Doubleday Publising, 1970.
The starting point of the School of Mutants is an inquiry into the role of universities, public school projects and academic utopia in the post-independence processes of nation-building in Senegal and West Africa. For the Biennale, the artists turn their attention to the practice of translation as an act of hospitality.  The work is rooted in the oeuvre of Senegalese filmmaker Ousmane Sembene (1923–2007), whose project was to create images and texts that speak to a large public, beyond the intellectual bourgeoisie of his time. Sembene saw his movies as plurilingual translations of his literature and approached writing and translation (for film and novels) as ethical acts of sharing and inclusion. The series of prints depict book covers and film posters of works by post-colonial African authors and filmmakers such as Ousmane Sembene, Souleymane Cissé, Abderrahmane Sissako and artists from their circles, which have been translated into Slavic languages and disseminated across the former Soviet Union and the former Yugoslavia. They reference seminal works by West-African anticolonial intellectuals who actively took part in international left-wing struggles in the 20th century and whose trajectories intersected in Soviet cinema schools. Sembene famously said, "Europe is not my centre. Why be a sunflower and turn towards the sun? I am my own sun". A flag pays tribute to these words that resonate with contemporary struggles against imperialism.
School of Mutants is a collaborative platform for art and research initiated in Dakar, Senegal, in 2018.
International Centre of Graphic Arts
Grad Tivoli, Pod turnom 3
SI-1000 Ljubljana, Slovenia
t: +386 (0)1 241 3800